Earthmoving Equipment Australia

Many jobs on the farm or property require robust, reliable equipment and machinery to ensure the smooth completion of a task. When earthmoving equipment is concerned, you need to have an arsenal of high-quality, strong equipment that works to make the job at hand a simple one. At EZ Machinery, we stock a range of agricultural and industrial machines which are geared to make landscaping or smoothing land easy before you bring in the earthmoving equipment.
At EZ Machinery, we specialise in heavy-duty, hard-wearing machinery that helps you to prepare your land. Our earth moving equipment makes earthmoving easy.
The Importance of Quality Preparation in Earthmoving

When you are undertaking a landscaping, construction or farming task, you need to ensure that the land preparation you do is sufficient to make the rest of your job easy. The levelling and shaping of the earth are vital when it comes to making sure that the construction is simple and straightforward. When you have trees to clear, stumps to remove and soil to get rid of, you need the right tools to make these jobs easy.
We stock quality made earthmoving equipment in the following forms: our flail mulcher to turn lumber into manageable sizes, our stump grinder to make smoothing your land easy, and our bagging machine to make sure that the soil is taken away neatly.
For top-quality earth moving machinery for sale, you can trust EZ Machinery.
Flail Mulcher
Our flail mulcher is a product that is designed to be attached to your excavator, your skid steer loader and your backhoe. The EZ Machinery mulchers are great for use with all kinds of machinery due to its standard and high flow hydraulics, and high-performance direct drive motor.
Perfect for a wide range of applications, our flail mulcher allows you to make short work of pruning, brush and grass cutting tasks. Thanks to its adaptability, the flail mulcher can also mulch larger branches up to 250mm in diameter.
While the flail mulcher is an exceptional piece of machinery, it's particularly valuable as a pruning, brush cutting or grass trimming machine near populated areas, because of its intelligent design and downward debris filter. There are extra safety features built in due to the flail arrangement which means that the flail will swing back if it hits a hard object in the undergrowth, and won't be damaged by anything hard.
You also have the option of adding to the effectiveness of the flail mulcher when you purchase an optional hydraulic thumb grab. This makes the flail mulcher into a handy piece of earthmoving equipment due to its ability to pick up and remove timber and rocks. You can also drag rocks and other heavy items out of the way thanks to the thumb saddle. For top-quality earth moving machinery, you don't necessarily need a bobcat when a flail mulcher can do many of the same tasks!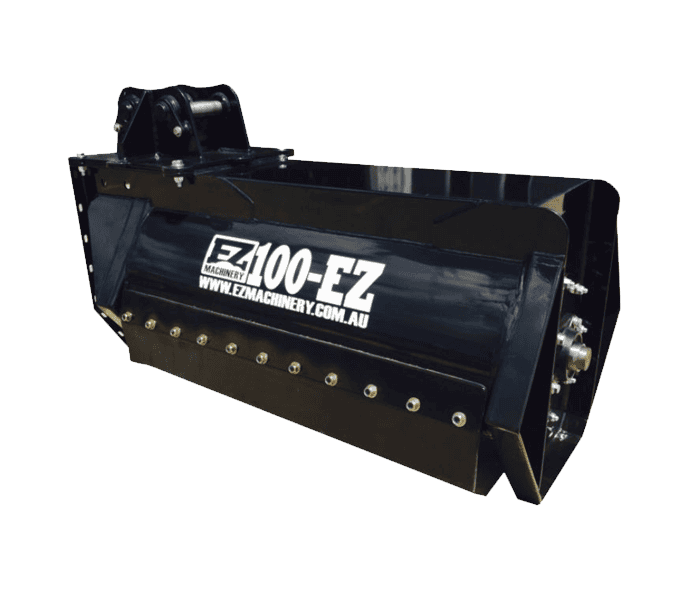 EZ Stump-It

For that pesky stump or problem tree, we have just the solution: The EZ Stump-It is geared to make stump removal simple – without having to wait for nature to take its course! Our range of stump grinders are designed to be attached to existing machinery, so you don't need to buy a stand-alone tree stump remover.
Our range comes in 500, 600 and 700 diameter cutting disc sizes which means that you can use them for everything from standard use through to heavy-duty landscaping.
Every one of our EZ Stump-It machine attachments is Australian made and thus are suited to the Aussie environment and conditions. With a direct drive motor and billet bearing housing, these durable devices make short work of any stumps in the way of your earth moving equipment.
With one of our EZ Stump-It attachments, you will turn stumps into woodchips in no time.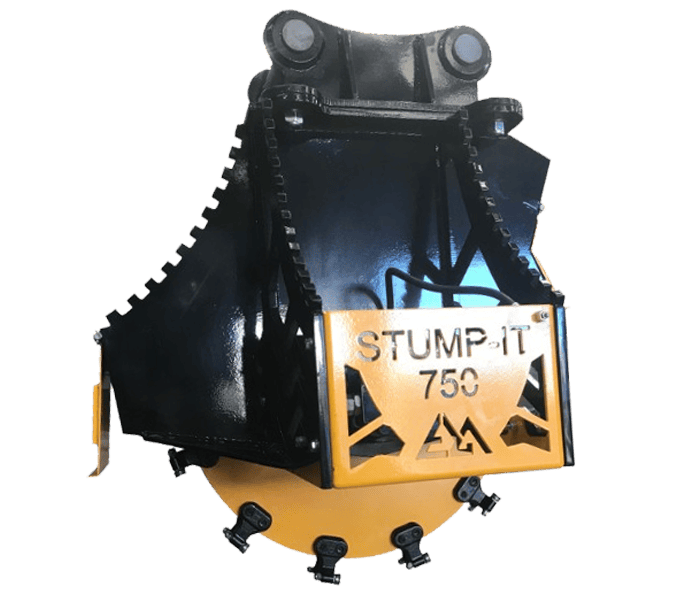 EZ Bag-It

These semi-automated machines are designed to make quick work of bagging and managing your agricultural and landscaping products, whether it's soil, gravel, bark, sand or anything else that you might need it for! When you bring in the earth moving equipment, make sure you have the EZ Bag-It handy as well to take care of the by-products.
We have a range of products that are perfect for every application, including the Bag-It 15 and the Bag-It 30 which are perfect for filling bags anywhere from 10 to 100 litres.
If you have a bigger load to fill, the Bag-It 10 is perfect for bulk-filling your products.
You will make short work of the earth or by-products shifted by your earth moving machines quickly and easily.
The EZ Bag-It comes with a standard sealing option of heat sealing or stitching, and with a bulk bag option, you can be assured that your bagging will be done quickly and easily. With a bagging rate of 240 bags per hour, you know that the Bag-It system will be an asset to your farm or landscaping business.
Earth Moving Equipment for Sale

When you need to get trusted earth moving machinery for your business or property in Australia or overseas, we can help you. At EZ Machinery, we provide top-quality earthmoving equipment, farming equipment, machinery and labour-saving devices. We are proud to say that all of our equipment is Australian-made and owned. We manufacture all of our equipment in our high-tech Brisbane facility and make every item that we sell to suit the harsh Australian conditions.
We are passionate about making the lives and work of Australian businesses easier and more efficient. You know that when you buy an EZ Machinery product, you are getting a top-quality, durable piece of equipment that is tailored to the job at hand.