What is a skid steer mulcher?
A skid steer mulcher is a powerful attachment designed for skid steers (skid steers are compact and versatile machines commonly used in construction, landscaping, and brush management applications). A skid steer mulcher attachment is specifically designed to be able to handle numerous types of vegetation, including trees, undergrowth and large mulch, turning them into fine debris.
Skid steer mulchers are built to be tough and withstand harsh conditions; they also come with unique features like dual-speed, rotors with fixed teeth, and direct drive systems for optimal power. Crafted to fit all types of skid steer loader brands, including Bobcat, skid steer mulchers are an efficient solution for clearing land, forestry and brush management tasks.
What can a skid steer mulcher be used for?
Skid steer mulchers are versatile attachments that can be used for various applications. We will include some of the common uses below:
Land clearing

Forestry operations

Brush management

Habitat restoration

Utility line maintenance

Roadside maintenance

Erosion control

Site preparation

Agriculture

Landscaping
Skid Steer Mulchers For Sale In Australia
If you're looking for a skid steer mulcher that continues to perform time and time again, you can be assured of a quality product with EZ Machinery. At EZ Machinery, we take pride in being an Australian-owned and operated company. We are based in Brisbane, Australia, and manufacture all of our products in our factory on-site so that we can ensure the same quality of our products every single time. We engineer our forestry mulchers to meet the often rugged and harsh Australian conditions and are always looking for ways in which we can innovate to meet your needs better. Our skid steers attachments are designed to last, providing you with reliability for years to come.
Our EZ-Skid Steer forestry mulchers are all manufactured with a dual-speed axial piston hydraulic motor and are equipped with a fixed tooth, dynamically balanced rotor to ensure ongoing efficiency, even at high speeds. You will enjoy the visual pressure gauge, which provides operator feedback and maximises your productivity. The direct drive motor comes standard with your skid steer mulcher and ensures ongoing durability and tough performance time after time.
Our skid steer mulchers are carefully crafted to cater to various brush management applications, ensuring efficient and effective land clearing. Our skid steer attachments are also versatile, making them ideal for different types of terrain and vegetation, from light brush to large mulch. We offer a range of working widths so that our mulchers can be easily customised to suit your project.
With an EZ machinery mulcher, you will also benefit from a hydraulically operated front hood, allowing for a finer output of the mulched material, resulting in an overall cleaner and more professional finished product.
Designed with your productivity in mind, our visual pressure gauge allows you to monitor the system's performance and make suitable adjustments as needed to maximize your productivity.
Our skid steer mulcher attachments have also been designed for easy ongoing maintenance and service. The accessible service panel allows you to quickly and easily access the hoses and drive train components; this ensures minimal downtime and maximum productivity. The rotor and teeth can also be easily replaced, ensuring your gear stays in top working condition.
Why us?
Our expert team is committed to providing you with durable and reliable skid steer mulcher attachments that suit your specific needs, so if you have any questions to help find the perfect fit for your circumstances, our friendly team are only a call or an email away.
We aim to provide a reliable product and exceptional customer service and support throughout the entire process, ensuring ease and comfort from product selection to after-sales care. So if you have any enquiries about your new purchase, don't hesitate to contact our friendly team.
Please browse our range of skid steer forestry mulchers and feel free to. Our skid steers mulcher attachments, and Bobcat mulchers are guaranteed to get the job done
Features of EZ Skid Steer Mulcher
Product Features
Dual speed, axial piston hydraulic motor
Dual speed, axial piston motor provides smooth efficient performance while delivering optimal torque under changing material loads.
Robust mulching drum
Robust Mulching head mulchers trees up to 200mm (8in) diameter for effective land clearing applications.
Fixed tooth dynamically balanced rotor
The heavy duty fixed tooth drum provides excellent operating efficiency at high speed. Dual bolt retention provides quick tooth replacement.
Adjustable brush bar push frame
Standard adjustable push bar allows for control of trees for optimal cutting and efficiency. The low profile design aids operators visibility and the side gussets provide control of the vegetation you're cutting which improves tooth life.
Visual pressure gauge
4in pressure gauge is standard equipment and provides operator feedback in order to maximise productivity. The gauge gives the operator feedback on the load being applied to the mulcher and enables adjustments be made to maximise productivity in changing material loads.
Hydraulically operated front hood
Hydraulically operated front hood is standard on all models. The quick to open and close door allows for finer finished material to be produced from cutting all types of vegetation.
Rear chain guard protection
Rear chain guard protection reduces spread of material.
Hose couplings
Quick connect couplings come standard on all models.
Accessible service panel
The service panel allows easy access to hoses. The side service panels allow easy access to drive train components during service and inspection.
Direct Drive motor
The EZ-Skid Steer Mulcher Range come standard with direct drive variable speed motors. Pending the machine size, the units can come with single or dual drive motors.
Additional Information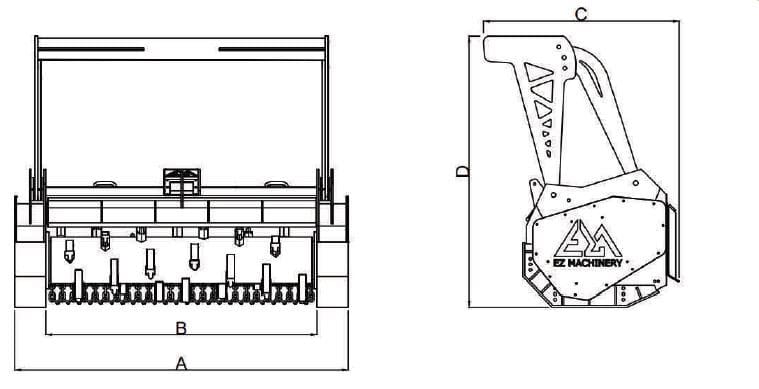 EZ118
EZ118HF
EZ115
EZ115HF
A Overall width
1882 mm
2250mm
1758mm
1950mm
B Working width
1582mm
1880mm
1480mm
1580mm
C Length
1354mm
1142mm
1219mm
1142mm
D Overall height
1480mm
1579mm
1281mm
1579mm
Weight
1550 Kg
1550 Kg
1200 Kg
1200 Kg
Drive method
Direct
drive
Direct Dual
Motor
Direct
drive
Direct Dual
Motor
Motor
Axial piston
dual speed
Axial piston
dual speed
Axial piston
dual speed
Axial piston
dual speed
Optimum hydraulic
flow L/min (gpm)
96-117  (25-31)
120-125  (31-33)
96-117  (25-31)
120-125  (31-33)
Optimum hydraulic
pressure bar (psi)
230 (3330)
280  (4060)
230  (3330)
280  (4060)
Drum Speed
range rpm
2480-3020
2140-2230
2480-3020
2140-2230
Fixed teeth per
drum
42
42
36
36
Maximum cutting
diameter mm (in)
200  (8)
200  (8)
200  (8)
200  (8)
Get a Reliable EZ Skid Steer Mulcher
That settles it; if you need a skid steer mulcher system that you can rely on, EZ machinery is the best in the business — offering Australian-made, specially-crafted gear that you can trust for years into the future. We understand Australian conditions, so our designs are tough enough to withstand the rugged and harsh weather. Our mulchers are designed to suit a number of skid steer brands, providing you with a versatile option no matter what brand you have in your shed.
So, whether you are a professional contractor, a farmer or a property owner, our skid steer mulchers can help you to get the job done easily. You can rest assured that our products are quality made with long-lasting durability and performance.
Browse through the EZ-Skid Steer Mulcher Range today to find out how well they suit your needs. If you need more information about our Skid Steer Forestry Mulcher equipment, simply talk to one of our specialists by calling 1300 736 982.
You can also contact our team for any other questions you may have about these units.